the greatest social investment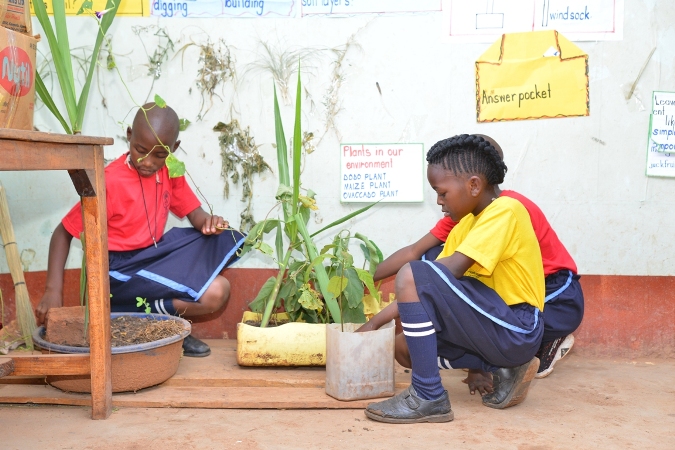 in uganda, 25% make it to secondary school.
Canaan Children's Transit Center believes that high-quality education provides the highest return on any social investment and has the power to advance an entire community. It's truly the difference maker for prolonged social and economic development. Our approach to education goes beyond K-12; we value trades and skills development of all ages and partner with community center leaders, regional schools, and caregivers to create an ecosystem of learning that is focused on sustained success.
As this new generation ages into the workforce, they will enter into a heavily saturated and highly competitive employment landscape due to the rapid population growth and unmatched economic development of the country. 
nearly 50% of uganda's population is between 0 and 14 years old.
less than 53% of students complete primary school.
Many children with disabilities or long-term illnesses, those without caregivers, and households faced with financial instability are at risk of school exclusion and dropout.
As a student gets older, pressures to financially contribute to the household and/or care for siblings and family members become greater. In addition, many students lack the promise of a high-quality education at a primary level, making the transition to secondary much more difficult.
only 24% of adolescents are enrolled in secondary education.
60% of teachers are not teaching in the classroom.
A lack of full-time employment by many schools necessitates teachers to supplement their income with additional part-time positions outside of the school. Often teachers are not provided sufficient learning aids, must commute long distances, and are discouraged by limited opportunities for professional development.  
5.7% (1 in 17.54) of people ages 15-49 are living with HIV. Many of the households we serve are 'skipped-generation' households, meaning they are comprised solely of children and the elderly due to the lacking middle generation lost during the HIV/AIDS outbreak. As a result, children must care for their younger siblings and/or elderly relatives, serving as the head of the household with greater responsibility than many of their peers.
5.7% (1 in 17.54) of people ages 15-49 are living with hiv.
CCTC INCLUDES A NURSERY, AND PRIMARY
Canaan Children Transit Center Primary School was established to provide quality Christian education to children in the Buziika after noticing that  many children did not have the opportunity to attend school or have a daily meal.  It  employs teachers in the local community.  It currently draws students from both the local area and from the wider Buikwe District. Our desire is to bring light, hope, and transformation to the community, region, and country thus creating a better. We have a team of passionate educators who believe that a strong foundation is paramount to success. By building a solid foundation spiritu­ality, academically, physically and socially our students flourish. 
CCTC S ON-CAMPUS FACILITATES AN EASIER TRANSITION INTO SECONDARY SCHOOL.
This allows students to maintain support and close bonds with their family, friends, and community that have been a part of their journey from the start. Community Engagement also plays a crucial role in secondary retention. We provide caregivers with opportunities for income generation to decrease social and financial pressures faced by adolescents.
WE OFFER FULL-TIME EMPLOYMENT TO TEACHERS AND STAFF TO REDUCE SUPPLEMENTAL INCOME NEED.
Employees are offered benefits such as local housing, health care, and continued education. We partner with 36 schools in the surrounding districts to collectively set standards for curriculum, staffing, and leadership. In combination, these factors encourage staff presence, motivation, and professionalism.